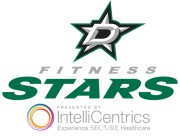 IntelliCentrics, Inc. and the Dallas Stars Foundation partner to promote students' fitness.
Flower Mound, TX, September 25, 2015 (Newswire.com) - Recent studies have shown that exercise improves academic performance and decreases behavioral problems which leads to a better total scholastic experience. Every mom knows an ounce of prevention is worth a pound of cure. Regular physical activity, fitness, and exercise are vital for good health, and Fitness Stars makes exercise a fun part of the school day.
IntelliCentrics, Inc. teamed up with Fitness Stars to give local school kids the opportunity to win with healthy choices. An initiative of the Dallas Stars Foundation, Fitness Stars is a program aimed at improving children's health through hockey-based fitness challenges. Fitness Stars currently enhances exercise and physical education in 307 schools in the Dallas/Fort Worth Metroplex impacting over 200,000 children.
The aim of the program is preventing childhood obesity by making exercise fun, safe, and part of the daily routine. Focusing on elementary schools, students are given a Fitness Stars bracelet, rewarding them with up to five different charms to snap onto the bracelet in recognition of their achievements. The five charms represent the fitness challenges of strength, cardio, agility, healthy choices, and cross training using hockey themes and floor hockey equipment provided by IntelliCentrics and the Foundation
"The Dallas Stars Foundation is committed to being a positive force in North Texas by promoting fitness and healthy lifestyle choices for our communities and children," Dallas Stars Chief Operating Officer/Chief Financial Officer and Dallas Stars Foundation President Jason Farris said. "IntelliCentrics shares the same passion for promoting health and fitness. We are thrilled they are now the presenting partner of Fitness Stars."
Increasing our philanthropic efforts in support of the Dallas Stars Foundation and the Fitness Stars program was one of the easiest decisions we have ever made," says Mike Sheehan, CEO of IntelliCentrics. "If we can make a difference in just one child's life, it makes everything worth it. It is our sincere hope that we can build upon an already great program and reach more schools and more children and their families in the future."
About IntelliCentrics, Inc.
IntelliCentrics is driven by a single purpose which is to bring broad public awareness to the principle that we all play a role in obtaining quality patient care by creating a safe and SEC³URE environment.  IntelliCentrics, defined as "Intelligent Concentric Circles," is part of a 20-year-old multinational company operating in the technology sector and within the security services industry.
Share: