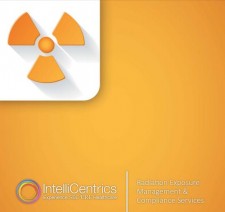 IntelliCentrics Launches Radiation Safety Program in Exclusive Partnership with LANDAUER
Dallas, TX, December 6, 2016 (Newswire.com) - ​IntelliCentrics, Inc., a community of professionals, patients, their families, and facilities working together to achieve a safe and SEC3URE healthcare experience, and LANDAUER, the global leader in radiation science, are partnering to protect individual visitors from the risk of radiation exposure when visiting healthcare facilities.
Occupational visitors are often inadvertently missed in radiation safety programs because they service multiple facilities making it difficult to track cumulative radiation exposure. LANDAUER's dosimetry technology coupled with IntelliCentrics SEC3URE managed services closes this critical gap in safety. The IntelliCentrics Radiation Safety program is the only all-inclusive program to include compliance for radiation exposure credentials and verification.  Additionally, the radiation exposure program includes automated monitoring of the LANDAUER dosimeter and radiation exposure.
The IntelliCentrics radiation safety program is one more resource enabling our customers to continue to make their location of care a point of differentiation for their community.
"It's our goal to ensure safety for everyone in a healthcare facility and that includes occupational visitors," says Mike Sheehan, Global CEO of IntelliCentrics. "We also want to enable the facilities in our community to fully meet all regulatory requirements. By collaborating with LANDAUER, we can provide our facilities with the best in dosimetry technology and safeguard the health of their visitors."
"We are pleased to support this collaboration that blends our proven radiation measurement and reporting process with that of IntelliCentrics, which serves more than 10,000 facilities in the U.S.," said Mike Kaminski, LANDAUER President, and CEO. LANDAUER's Luxel®+ optically stimulated luminescence (OSL) dosimeter enables precise measurements for occupational radiation exposure and monitoring.
"The IntelliCentrics Radiation Safety program is one more resource enabling our customers to continue to make their location of care a point of differentiation for their community," Sheehan said. ​IntelliCentrics maintains a pre-programmed ALARA database providing facilities with the ability to report accurate, cumulative data on the radiation exposure of their occupational visitors.​ IntelliCentrics SEC3URE is the only program that gives facilities the capability of maintaining full compliance with radiation safety regulations mitigating their risk of citations, fines, and lawsuits. It also enables hospitals and other facilities to serve individuals by providing exposure information so they can optimize their health and well-being.
To learn more about the IntelliCentrics Radiation Safety Program or the Radiation Exposure Program, please contact us today or phone (817) SEC3URE.
Media Contact:
Beth Mahler
Vice President Marketing 
Phone: 972-316-6523
Email: BethMahler@IntelliCentrics.com​
Source: IntelliCentrics
Share: